What is CEREC®?

CEREC® is a revolutionary piece of cutting edge technology that brings a whole new level of efficiency and convenience to our practice. CEREC® stands for Chairside Economical Restoration of Esthetic Ceramics or CERamic REConstruction. CEREC® is the #1 method of CAD/CAM dentistry on the market today. CAD/CAM stands for Computer-Aided Design/Computer-Aided Manufacturing (sorry for all the acronyms), which is essentially the digital upgrade to the old restorative process.
With CEREC®, rather than using messy physical impressions, we use digital impressions that are quick and painless. Your digital impressions, rather than being sent to a lab to have your restoration created by a lab technician, are then sent to the in-house computer software system for design. This ensures a more accurate restoration with fewer chances for human error. Once designed, Dr. Saydyk will carefully select a block of ceramic that perfectly matches the shade and translucency of your natural teeth.
Just like magic, your new restoration will be created before your eyes. Viola! With CEREC®, we can give you a new smile in a single visit.
Benefits of CEREC® Same Day Technology
No messy goop with digital impressions
Fewer injections for improved comfort
Precision digital design with less human error
No ill-fitting temporary restorations
No return appointments
A new smile the same day!
The Process
Dr. Saydyk will sit down with you one on one to discuss your treatment needs. Together, we will determine which restorative option is best for you. Most single tooth restorations and some bridges can usually be completed the same day with CEREC®.
On the day of treatment, we will take digital impressions that are a much more pleasant experience than traditional physical impressions, with less chance for human error. CEREC® helps us get it right the first time to minimize adjustments later.
CEREC® technology converts digital impressions into a high precision 3D digital model of your new restoration.
Carefully considering the precise shade and translucency of your smile, we will select a block of ceramic that will blend in seamlessly with your natural teeth.
The CEREC® milling machine carves your new restoration while you wait.
After your tooth has been prepared, we will secure your new restoration and make sure it's everything we hoped for. You'll leave with a new smile the very same day.
There's no need for a second appointment, you are free to enjoy your favorite foods again and to speak and smile with confidence. See you at your next checkup!
Same Day Crowns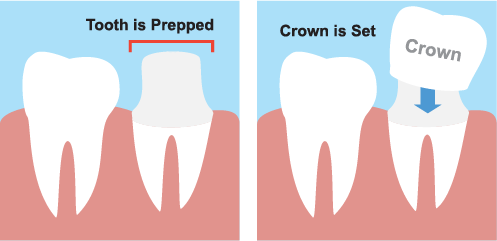 If you have a tooth that's been broken or badly decayed, you may be in need of a crown to restore the tooth to health. Instead of a several-week process, with several trips to the dentist, why not have your crown completed the same day with Dr. Saydyk at Stoneridge Dental? Whether you need a crown for the first time or need to have an old crown replaced, we promise the process will be as quick and painless as possible with our advanced CEREC® technology.
What else can CEREC® do?
One of the most common restorations we do with our CEREC® machine are crowns, but there are other types of restorations we can complete the same day as well. If you have enough healthy tooth structure remaining, we may be able to avoid a crown with an inlay or onlay. If you have a missing tooth or teeth, we can create a full crown to be placed over a dental implant, or a bridge to fill the gap and restore the balance. If you have cracks, chips, stains or gaps, we can create and place porcelain veneers with CEREC® the same day, too!
Contact Us
If you have any questions about CEREC® same day dentistry or would like to schedule an appointment with your Gilbert dentist, Dr. Nathan Saydyk at Stoneridge Dental, give us a call today at (480) 400-8700 or schedule a visit online!